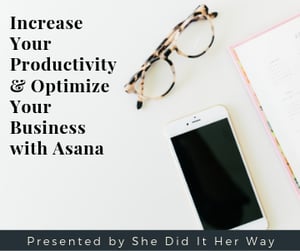 About the event:
Do you find yourself overwhelmed with what needs to get on a daily basis in your business? Hesitant to outsource tasks to virtual assistants? Do you find yourself doing repetitive tasks and desperately want to systematize the process? Then join us for an introduction to Asana and Increase Your Productivity and Optimize Your Business with Asana.
In this 60-minute workshop, you'll learn how to create processes and systems into your business using the software tool, Asana. Asana will help you optimize your business to run more efficiently and effectively by helping you eliminate repeat tasks, reduce error and rework.
Schedule:
11-11:30am - Arrive
11:30am - Lunch is served
12 - 1pm - Workshop
1-1:30pm - Closeout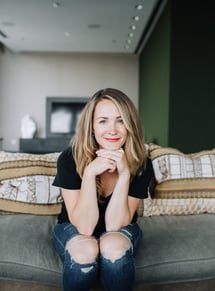 About your Instructor:
Amanda Boleyn is the founder and CEO of She Did It Her Way. She Did It Her Way helps women take massive action on their business idea to help create more freedom in their lives and doing it their way.
Since 2015, She Did It Her Way has grown from a podcast to now a monthly membership program that provides women with the roadmap to achieve their goals and dreams. She Did It Her Way podcast has been featured as a top-rated podcast by Forbes, Inc.com, Entrepreneur and others.
Through the process of building, She Did It Her Way, Amanda Boleyn has found a love for systems, removing inefficiencies so that she can spend more time working on her business instead of it and helping business owners do the same.
*Members please login to your account to redeem your free ticket CLICK HERE or use the code provided in your monthly newsletter for eventbrite ticket.