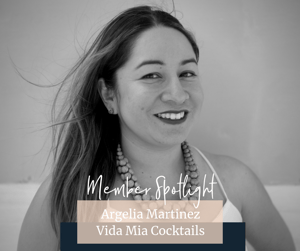 Meet our Female Feature of the week, Argelia Martinez - Femme-Entrepreneur, Marketing strategist by day, and Chicago lead for The Latinista. She is the principle of Vida Mia Cocktails. LLC. Vida Mia was created to celebrate the diverse culinary traditions of Mexico through cocktails and cocktail food pairings. By day, Argelia is a marketing director at a strategic communications firm called Hauswirth/Co. which works with mission based clients to bring a smart, pointed approach to building consumer brand activations and translate complex issues into energetic advocacy campaigns.
Born and raised in the city of Chicago, Argelia is proud of her roots. She is the daughter of Mexican immigrants and the oldest of three sisters. From an early age, her annual visits to Mexico were a source of inspiration as she learned more about her history and translated those experiences into her reality in Chicago. These experiences inspired Argelia to become a marketer so that I could become a bridge between culture and developing brand experiences. This led her to work with amazing clients to build integrated marketing campaigns and to ultimately work at a large consumer foods company. Over time, Argelia learned to embrace her Spanish given name in corporate America and own everything about who she is as a Mexican-American business professional. However, at the end of 2017, she started to find herself in a rut and uninspired. In December of 2017, she had an unexpected conversation with the owner of DeColores Restaurant in Pilsen, which inspired Argelia to write her business plan for Vida Mia Cocktails on New Year's eve.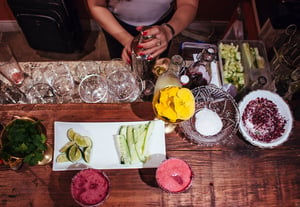 For Vida Mia Cocktails, Argelia's vision is to become the Frida Kahlo of cocktails. Vida Mia Cocktails uses fresh local ingredients, classic cocktail glassware, and storytelling to please a crowd with hand-crafted beverages to celebrate a memorable occasion. Vida Mia's literal translation is "My Life." Vida Mia celebrates Mexican cuisine and the people/places behind the craft. Services for my business include:
a. Teaching mixology 101 classes at local restaurants
b. Leading team building events at companies
c. Designing a signature cocktail and/or mocktail for special events (birthdays, pop up dinners, food pairings, weddings, other etc.)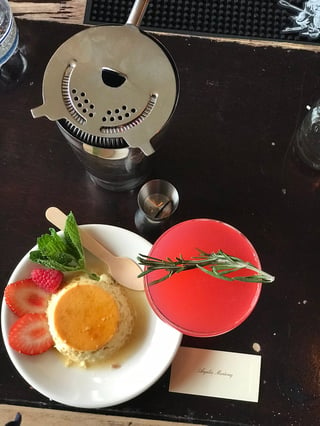 By January of 2018, Argelia was gravitating towards work that made her happy. She learned that if we can't find what we want professionally, we have to build it ourselves. She took a leap of faith by leaving a job. By February of 2018, she began partnering with Mexican owned businesses, femme-entrepreneurs, and local businesses to curate Mexican-inspired mixology classes and food pairings. Argelia was immediately welcomed by more Chicago female entrepreneurs and coached by Alex Batdorf of the Get Sh!t Done series. Argelia's cocktail business became a platform to help her build her dream and to invite her family and friends to be a part of its success. It also led her to strike a collaboration with Easthill Tea company this summer. She brought the art of mixology to help co-curate tea inspired drinks. Argelia currently supplies the tea house with natural, handcrafted elixirs for their Matcha Lavender latte. In August, she was also fortunate to find a great role at Hauswirth/Co and work for a supportive manager.
As a way to give back, Argelia empowers women to own their experiences and to lead from a place of authenticity. She is a mentor at iMentor Chicago and aChicago lead at the Latinista. In her free time, you can find Argelia at a yoga sculpt class or teaching Vinyasa yoga at a women-owned Cider House called ERIS.
Argelia relished her philosophy classes at DePaul University. Her favorite quote from Ralph Emerson reminds her to have faith in herself:
"Trust thyself every heart vibrates to that iron string."
The activist and doer in Argelia loves this recent quote that she discovered by Shirley Chisholm:
"If they don't give you a seat at the table, bring a folding chair."
Follow Argelia!
Website:
Instagram: @argelia23 and @vida_mia_cocktails
LinkedIn: https://www.linkedin.com/in/argelia-martinez-5248823/