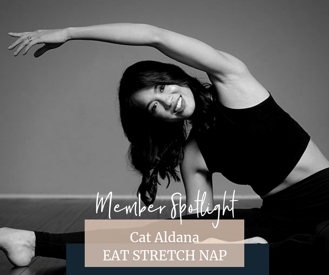 Meet our Female Feature of the week, Cat Aldana. She's the founder of
EAT STRETCH NAP™
and
Cat Aldana International.
Everything she does is all about helping people relax, be more mindful, and less stressed! Cat feels that if she can help you feel more calm, She's done her job :)
Cat started teaching Yoga immediately after college. She suffered from the typical, "I'm lost, I'm confused, I don't know what to do with my life!" complex that happens to most people when they graduate. She quickly became a full-time Yoga Instructor running around teaching classes all over the city. Five years later, Cat realized she was burned out, stressed, and still lost.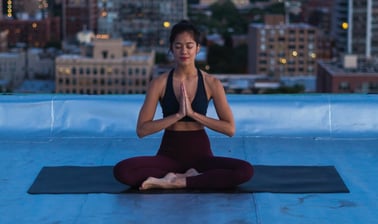 She thought about why it was she wanted to become a Yoga Teacher in the first place – it was to take it easy, to not take life so seriously and to have fun! Cat realized she attempted teaching yoga the same way anyone else who had a "9-5" or corporate job would: Like a crazy person eager to get to the top with no appreciation for the journey. Late 2015, she decided things would be different. That's when she created
EAT STRETCH NAP™.
EAT STRETCH NAP™ teaches you how to slow down, turn your mind off and not take life so seriously. They host retreats, events, and programs to help you feel less stressed, more focused and more inspired. Ultimately, EAT STRETCH NAP™ is all about joy and relaxation! They like to bring travel and mindfulness together so you can actually relax. Their wellness retreats are their most unique experiences! Be sure to keep an eye on Cat's site to stay up to date with future retreats!
At first,
EAT STRETCH NAP™
started as a blog to help people navigate tough choices – like the one Cat made to become a Yoga Teacher full-time. She had no intention of starting a business. Before Cat knew it, she started attracting corporate clients and readers which led to her turning ESN into a boutique wellness company offering international retreats, events and programs. Cat loves what ESN has become! She helps people relax, slow down and enjoy the moment. Her favorite part of ESN are the retreats, which are a week long wellness vacation. Anyone is welcome to come!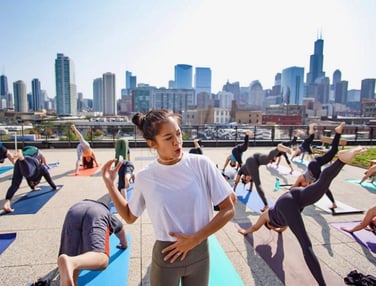 Most recently, Cat launched
Cat Aldana International,
which is her online health coaching practice. She wanted a way to reach more people, but also work with them more personally. Like ESN, Cat's goal with Cat Aldana International is the same - to help people learn how to embrace stillness. She has come to learn that's truly when life is most "enjoyful", so that's what she focuses her energy on.
In Cat's free time, she cuddles with her cat, reads self-help + spirituality books, practices reiki, akashic records + tarot, watches cheesy romantic shows and movies like To All the Boys I've Loved Before + Felicity, collects crystals, and drinks tequila with her friends.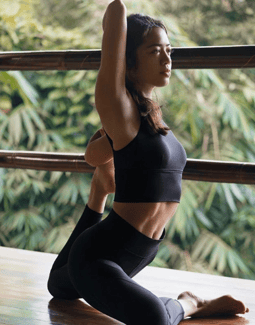 Favorite Quote & Life Motto:
"Everything is going to be okay."
Fun Facts About Cat:

1.) She's a book nerd! From a yoga + spirituality standpoint, some of her favorites are The Untethered Soul, The Yoga Sutras of Patanjali, Anatomy of the Spirit, Loving What Is, and The Life-Changing Magic of Tidying Up.


2.) Her go to healthy breakfast: Lots + lots of fruit, oatmeal with berries + crunchy coconut flakes
3.) 3 things that are always in her pantry: Peanut butter, salt + vinegar chips, + goji berries


4.) Favorite sweat sesh: Strength training in a gym using weights!
5.) Advice she wishes she could give to her 20 year-old self:
Let your intuition guide you + TRUST IT. Stop worrying so much. You got this!!
6.) Favorite hidden gem in Chicago? El Mariachi on Broadway and Roscoe. Best. Tortilla Chips. Ever. Lol
Follow Cat!
Social Media: @cataldasana @eatstretchnap