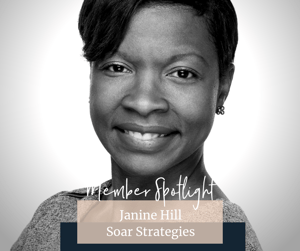 Meet our Lady Boss of the week, Janine Hill. If you ask her what she does, she'll tell you it just depends on the day! She is the president of Soar Strategies, where she primarily does career coaching and works with women undergoing a career change, new promotion, or entering a leadership role.
She launched Soar Strategies from her love for working with diverse groups of coaching clients and organizations to navigate issues such as change management, diversity, gender, & inclusion, leadership development and planning and executing a strategic job search. Before Soar Strategies, Janine worked as the executive director of EverThrive Illinois for 6+ years, where she helped double its revenue, oversaw an organizational rebrand, and strengthened its private/public partnerships.
Janine enjoyed her job, but realized that she wanted to make a larger impact– She wanted to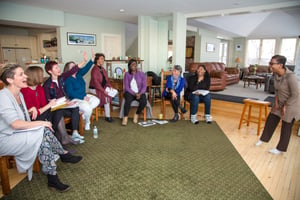 touch individuals and teams from multiple organizations, not just one. Janine's goal has always been to nurture, support, and advise fellow leaders; She'd like to leave the world a little better than she found it.
Janine also loves the academic environment and is a maternal and child health (MCH) practitioner by training. She also currently teaches 2 courses at the University of Illinois at Chicago's School of Public Health and is working to complete her Ph.D. there in maternal and child health methods, programs, and policies. Janine also holds a BS in Biology from Georgetown University and an MPH from Boston University.
In her free time, she's hanging with her 11 year old daughter and family plus grading
homework for her students. She loves to run and even makes time for half marathons and 5k's in the fall and spring seasons. When she's not running, you can find her reading non-fiction and fiction books. Looking for a good read? Janine recommends:
Blindspot: Hidden Biases of Good People by Mahzarin R. Banaji & Anthony Greenwald

White Fragility by Robin Deangelo
The Big Leap by Gay Hendricks
Good to Great by Jim Collins
Becoming by Michelle Obama
Favorite Quote(s)
"be the labor great or small, do it well or not at all"
-Janine's Grandmother
"if you can meet with triumph in the disaster, and treat those two imposters just the same"
-Rudyard Kipling
"The future belongs to those who believe in the beauty of their dreams"
-Elenor Roosevelt
Keep up with Janine and Soar Strategies!
Email : janine@soar-strategies.com
* Photograph by Molly Haley, www.mollyhaley.com