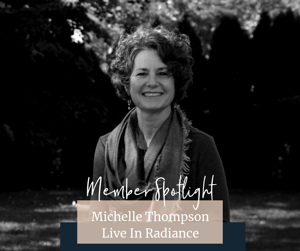 Meet our lady boss of the week, Michelle Thompson. She's a life coach with a particular passion for helping her clients drop the drama in their relationships. She works with individuals, parents, and couples in helping them move away from conflict and into collaboration.
Michelle came to this work through her own journey of self-discovery and self-understanding that helped her to transform the pain in her life into powerful connection. It all began with her marriage. Michelle and her husband spent many years playing out a very toxic pattern of interaction that brought them much unhappiness. This pattern perpetuated until the very moment they decided they wanted something else. They both wanted to create a healthy, happy family with a thriving marriage as its foundation. The two dove head on into a journey toward living and loving consciously and communication with authenticity.
This journey, at equal times, challenging and exhilarating, has taught Michelle to take one-hundred percent responsibility for her actions, thoughts and beliefs. It has taught her to communicate with absolute authenticity and truthfulness without blame. Not only did the experience help her and her husband to transform their relationship with each other, it helped Michelle to improve her relationships with her five children, family, friends, co-workers; and most importantly, it transformed her relationship with herself.
As Michelle experienced the positive impact this was having on her life, the more she wanted to share what she had learned with her friends and family, or with anyone that would listen. She decided that she wanted to help others transform their lives like she had done with her own and began her work as a life coach. She works with individuals, couples and small groups (in person and online) to transform their relationships from the inside out by dropping the drama and learning to connect authentically. Michelles's newest offering (launching this month) is a monthly membership community called Drop The Drama, where we explore topics related to diffusing drama and creating connection in your roles at work, at home and in our communities. Michelle believes we are all creators of our own experience and she is committed to supporting others in becoming conscious, deliberate creators of their most radiantly fulfilling lives.
In Michelle's free time, she reads about a wide range of topics from mystery novels to metaphysics. She is driven to figuring things out and understanding people and the world we live in by immersing herself in books, podcasts, videos, courses, communities centered living more lovingly and more consciously. She spends most of her free time with her family and close friends talking and enjoying the experience of being with the ones she loves as they are simply being themselves. Meditation is also a passion of Michelle's. She practices meditation frequently throughout the day and engages in learning communities/opportunities that support her meditation practice. She loves being in nature, walking, hiking, paddle boarding, etc. Her day is always better if she gets outside for at least a little while. She also like to create/build things that she finds beautiful or orderly and loves fixing things. She is a secret handyman and artist.
Favorite Quote?
"Ask and it will be given to you; seek and you will find; knock and the door will be opened to you."
Connect with Michelle!
Email: Michelle@liveinradiance.com
Website: www.liveinradiance.com