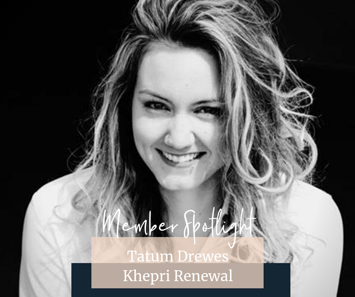 Tatum wears a lot of different hats when it comes to work, but she is the CEO and Founder of two CBD companies based out of Albany Park, Chicago. One being Higher Healing, which was founded in 2015. This CBD line consist of pet products, tinctures of all different strengths and sizes, vape cartridges and muscle rubs. You can find her products online or at a local smoke shop, home good boutique or hair salon.
During the first few years of being in business, Tatum began aggressively studying botany, anatomy, the workings of the body and cannabis, nutrition and lifestyle living. During these studies, she has built up strong relationships with medical, alternative and integrative health professionals. Working together to heal the body through natural compounds (CBD and supplements), nutrition and sleep, helping to lead us to find the root cause to sickness and disorder.
The second company she's created, is also CBD focused and is pharmaceutical and medical focused. Khepri Renewal is Tatum's working engine right now that she pours most of her time into building the right brand, team, networks and relationships.

Khepri Renewal

produces and distributes their Cannabidiol (CBD) and own the formulas to their products. That is something she's really proud of. She has worked with formulators and chemist to find the right product for a specific ailment.

Khepri Renewal sells

topical's for muscle relief and recovery, soothing lotions to support eczema and skin conditions, and a variety of tinctures. Head over to her website, http://www.kheprirenewal.com/to learn more.
Prior to Tatum's companies that keep her so busy, she had a career as a hairstylist. It was her first passion! There was something about making a person feel beautiful. When they sat down in her chair and poured their hearts out about challenges or successes, she built really meaningful relationships.
Tatum was born and raised in Northwest Suburbs and has been living in Chicago for the last 12 years. Since a child she has always been an athlete and creative. Tatum was always in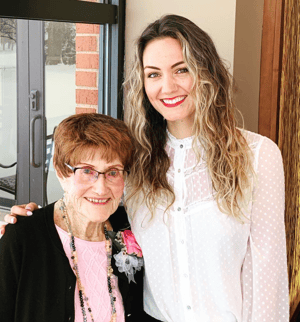 sports, soccer especially, but had an injury happen that gave her chronic back pain. While in school, she began working in a hair salon at age 14 and fell in love with the industry. Tatum finished high school early and immediately went into cosmetology which you have learned was a big part of her life. Her back pain in combination with the hair industry and continuing to be active with sports seemed to progressively make her pain worse. Tatum was desperate for relief. Through her journey of searching for relief, she found her way into CBD therapy, which HELPED! A lot. She knew a lot of society was experiencing something similar or more severe, so she wanted to share this natural remedy with the world. This is why Higher Healing and Khepri Renewal were created. Khepri Renewal imagines a world where each person is living a full, vibrant life. They pledge to make nutritional and therapeutic plant-derived products that provide alternative solutions to healthy healing. In so doing, they promise to do their part to stop the tragic loss of life from opioid abuse until, one day, it is 100% eliminated.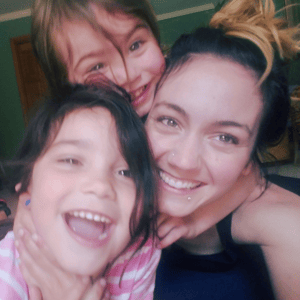 Tatum's work is her passion and hobby. She feels grateful to be able to say that. She doesn't wake up in the morning needing to talk herself into the day but on the contrary, in result of this, she works a lot. Her brain is constantly booming with new ideas but she believes it's necessary to stay balanced and refreshed. In her free time, she can be found in the kitchen. She loves to host dinner parties for friends, It's like therapy to her. She tries to spend as much time as she can with her nieces. They are 6 and 7 and they hold Tatum's heart in their hands. These two girls are everything to her. Family in general is so important to Tatum, and she feels blessed to say hers is very large and connected. Tatum is getting married in August, so her and her fiancee, Isaac are super busy with wedding plans and honeymoon details. He is her rock, her strength, her support and her best friend. He and Tatum are in the works of developing a new business venture in the cannabis industry. Stay tuned! Very exciting things ahead!
Traveling the world is something Tatum makes sure to fit into her life. Her type of traveling usually involves some type of volunteer work or hiking, biking and exploring some of Earth's most beautiful places. A big part of her twenties were spent fundraising and cycling the world for charity. Taking place all over Asia and Africa, she would have a personal challenge of cycling hundreds of miles in a few short days and spend the remainder or the trip at the orphanage or group housing, creating memories with the children she was supporting and raised money for helping their communities.
In the evenings or on weekends, especially in the summer time, you can find Tatum at a show, listening to live music with friends. She loves everything from soul and funk to bluegrass and folk.
Favorite Quote:
"Be water, my friend."
"I don't know who I should thank Bruce Lee or my Father.
Daddi-o would be happy to hear I chose this quote. He loves to say this. He has had a very positive influence on how I look at the world, I am certain he is not aware of how much. Our long talks as a late teen, early twenties about philosophy and all different religions, leading me to a journey of Buddhism. He's a great guy, you should meet him. "Be water" empty your mind, be formless, shapeless — like water.
That is a truth. Be simultaneously without form and every form possible. No resistance. Adapt." - Tatum
Instagram: @higherhealingcbd @kheprirenewal
http://www.kheprirenewal.com