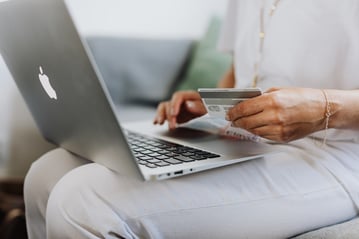 According to Statistica, 1.92 billion+, yes billion, people made online purchases last year. But did you know that 74% of small business websites don't include e-commerce capabilities, reports SmallBusinessTrends.com? I see a bit of a disconnect. What about you?
Do you feel ready to take your products online? I'm here for it. As the founder of Ready Pretty, we help boutiques and small brands build their e-commerce sites to better compete online. But there are things to consider before taking this step - questions to ask yourself now that will help set you and your business up for success later.
If the thought of building and running an online store makes you sweat, we break down the things you need to consider prior to taking the leap. Online shopping isn't going anywhere anytime soon so see what you need to consider to get yourself up and running (er, selling!) in the digital world.
Ask yourself why. Yes, in 2019 I do think that it's important to have a strong online presence for nearly every single business out there. Be it a landing page with just the most important information about your business or a full e-commerce site with all the bells and whistles to help you sell your product. Either way, I recommend you take the time to ask yourself "why" online is right for you. Have a firm understanding of your business needs so you can build the site that helps you reach your business goals faster.
Set your goals early. We all know it's important to plan so when considering the move to take your brick and mortar online, sit down and think through what success really looks like for you. What are your revenue goals, who is your dream customer, how many products would you like to have on your site at launch? As you start to answer these questions, you can ensure the development and marketing of your site addresses them.
Know your (technical) limits. When in doubt, farm it out (if you can). As a business owner, I'm all for figuring things out on my own. But I've also learned the value of bringing in an expert to better free up my time to do the things I'm good at that will move my business forward. Work with an expert who understands the ins and outs of e-commerce so you can get it right the first time. They are knowledgeable with the best apps to add, cracking the SEO code and delivering the best experience for your customers. Free up your headspace to focus on everything else.
Find some inspiration. When setting out to build your online store, take a moment to find and organize a bit of inspiration. Find other sites that you admire, be it their font selection, colorway, product photography or overall vibe. It's helpful to have a strong sense of you what you like so you can begin to hone in on the look and feel of your own site.
Organize your assets. Whether you work with a development partner or go it alone, I recommend getting all of your assets in order before you start. Site mapping - the process of laying out exactly what pages, content and navigation you'll need on your site - is a process that can greatly help keep things moving forward. Organize all branding materials, launch products shots and information, content like frequently asked questions, about us write ups and other relevant pages in one place. It will make the development process so much easier once you've mapped out and created all the content you'll need to build your site.
Create (and automate) your process. This one's important. With online shopping comes a whole host of new processes to consider. Have you figured out fulfillment and shipping? You'll need to sort out your packaging, fulfillment timeline and preferred shipper. Many e-commerce platforms like Shopify or Squarespace have great resources and tools to assist you with these decisions. You'll want to organize how you'll process returns and exchanges or how often you'll add new products to your site, and what information you'll consistently include. Documenting these processes will take the guesswork and time out of your way so you can focus on other things and more quickly scale your online store.
Be patient. While we can all hope that you launch your online business and sales blow through the roof, it may take some time to find your rhythm and stride in this new facet of your business. Be patient, follow your plan and work with great partners to help your flourish online and beyond.
If you're ready to take your business online and looking for a strategic partner to help, we're here to talk. Email Jeannine at hello@readypretty.com.