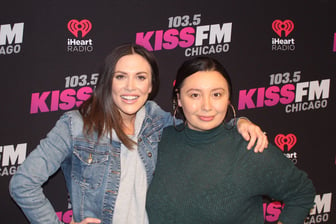 As we learn how to navigate this new "normal" we're all living in amid the coronavirus pandemic, many of us are experiencing increased feelings of stress and anxiety. This Whitney's Women edition is shining light on a woman who is trying to help people cope with mental stress. Meet Pauline Wysocka:
Tell us about your non-profit
Get Yo Mind Right is a mental health initiative that has teamed up with Healthy Hood Chicago located in Pilsen. The need for mental health healing and services are desperately needed in low income communities and communities of color here in Chicago. Our goal is to break the stigma, while calling on those with healing skills to make those skills and talents accessible to many who otherwise could not afford the services. The goal of GYMR is to not only offer these services but to also address the systems that oppress our communities and cause mental and emotional stress.
When did you start it?
The initiative officially launched in October, when we facilitated an influencer campaign based around mental health. We had over 40 Chicago influencers take professional photos, where they shared what they personally struggle with. Along with going viral, we put a call out for healers of all types to join the community and to give back anyway they could. We now have over 75 volunteers, and are growing. We launched the program and began sessions on January 6, 2020.
Why mental health?
The conversation around mental health is important for everyone, but it is particularly for those in low income neighborhoods and communities. As the daughter of immigrants, mental health was never discussed within our family. From depression, to anxiety, and even to alcoholism, our families would never acknowledge any of the above, or ask for help. GYMR was created for this reason-to
provide mental wellness services for community members who otherwise would not have access to these resources, and to offer accessibility and options to the underserved.
How do we break the stigma around mental health?
To break the stigma around mental health, you need to first provide accessibility and resources to those in extreme need. Underserved communities are in desperate need of healing, and the best way to break the stigma is to start within. Having open conversations, offering services and educating our communities is a great way to start.
With the stressful times we're living in, many people are feeling anxious. Any tips?
I'm not a mental health professional, but here are some tips that I can offer that I have found very helpful
If you're anxious or stressed, practice the art of mindfulness.

Take care of your physical health as best as you can. Your physical health is just as important as your mental health and they both go hand-in-hand.

Anytime anxiety comes knocking on our door, it can leave our emotions all over the place. The first step I would recommend is to breathe, because anxiety causes your heart to race. Anxiety triggers are different for everyone, so I highly recommend seeing a licensed professional if it becomes too severe or out of your control.
How do we get involved?
You can join our community of healers and donate your services at Healthy Hood Chicago, located in Pilsen. We are looking for healers of all types: counselors, therapists, massage therapists, physical therapists, etc.
For more inspirational interviews watch Whitney Reynolds' Show on Amazon Prime, the National PBS App or on TV in select PBS Markets.