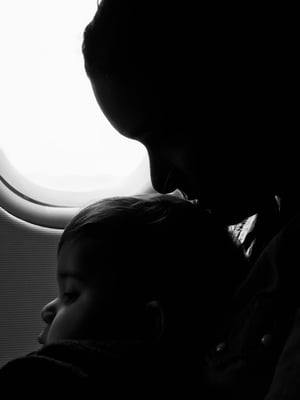 With Mother's Day days away we wanted to introduce you to a mom who turned her personal tragedy into a way to help thousands of other families. She's extremely brave with er story; and for that, I call her a hero.
Meet Mariann Stanton...
Q: Tell us about your motherhood journey.
I approached my journey into motherhood with no idea, and with every idea. It felt seamless and natural. It brought me immediate joy and a love that only a mother knows; the world was now full of color, and in an instant life became more powerful, more important, and more real.
Q: What has been your most challenging part of motherhood?
The most challenging part of motherhood for me has been the death of my son Danny. I have been a mother for almost 18 years, and I have spent close to 10 of those 18 years without my son. He was just three months shy of his fifth birthday when he died from a seizure while he was sleeping. I feel the hellishness of the loss of Danny on a daily basis, and my grief is compounded knowing that his siblings —Mary Grace, Johnny and Tommy— also have to grow up and live life without Danny.

Q: How did you get through that?
There is no 'getting through' the death of a child. My approach to facing a forever-broken heart has been, I imagine, not unlike any other mother who has lost a child. Controlling the anguish is not an option, and so instead the effort becomes to figure out ways to manage day-to-day life without Danny.
Sometimes that means contemplating that it's not true, sometimes that means reflecting on the mysterious nature of our lives, and sometimes that means considering that everyone has a burden to carry. It never, however, means that I accept that Danny is gone.
Q: What is a resource that has helped you as a mom?
After Danny died, I became the mom who lost her son. I became the mom no one wanted to be. I felt so anxious, so removed, and so vulnerable. Although I still struggle to navigate this world without Danny, my mother and the community of mothers with whom I live and love consistently provide me with compassionate tenderness, relentless support, and nurturing protection, empowering me to try to live the best life I can because, simply, that is what mothers do.
Q:You went through this unimaginable tragedy to create an organization designed to ensure that doesn't happen to any other family. How does that happen?
The concept for the Danny Did Foundation came just a few days after Danny's death, during which time we were consumed by the idea that if he had only had a device that monitored him while he was sleeping, maybe we would have been alerted to his final seizure and maybe, just maybe, we could have tended to him and saved his life. And then, a week or so after he died, we received a phone call from an Associated Press (who ended up writing this article) reporter who had read Danny's obituary. We talked for thirty minutes, with us going on and on about Danny, about his likes and dislikes, about his place in our family, about his friends and his neighbors, and about his seizures and their treatment.
During our discussion, we were certainly still in a state of shock and pretty much on automatic with our answers to the reporter's questions until the very end when she asked if we'd given thought at all about Danny's legacy and of how he will be most remembered. That question caught us off guard and we just blurted it out. "We're going to start an organization in Danny's name that will aim to assist people who suffer from seizures while they sleep and that will work to prevent deaths caused by seizures," we said. The name of the foundation, we decided, would be the Danny Did Foundation (DDF), which originated from the last line of Danny's obituary, which read "Please go and enjoy your life. Danny Did." And so it began.
Q: What does the Danny Did Foundation do?
The primary mission of the DDF is to prevent deaths caused by seizures. It counsels and supports families, educates students, tracks the epilepsy technology pipeline and bridges the communication gap regarding the risk Sudden Unexpected Death in Epilepsy (SUDEP) that often exists between healthcare providers and patients. Our signature program provides grant funding to enable patient access to devices that enable early intervention when a seizure occurs.
Since inception, the DDF has funded approximately 1,200 grants for seizure detection/alert devices to families across all 50 states and in 11 countries. These systems provide added safety for the person being monitored and peace of mind for their parents and relatives.
Q: How do people learn about DDF? How can others with philanthropic missions connect with the public like you have?
To spread our message, we advance epilepsy and SUDEP awareness across all platforms on social media, in schools, and in various forms of marketing to the general public. To date, we have launched 14 public awareness campaigns to grow understanding about seizures, epilepsy and SUDEP. These campaigns have ranged from digital to social media, radio, billboards and a yearlong effort at O'Hare Airport, collectively reaching an audience of 11.5 million people.
We also both sponsor and participate in conferences, expos, panels, and other epilepsy/SUDEP related events; we send families to Epilepsy Awareness Day at Disneyland, the largest family-centered epilepsy expo in the U.S; and our staff speaks with and shares Danny Did resource materials at schools and conferences around the United States. Furthermore, we support initiatives to educate patients and medical professionals about the importance of communicating the risk of SUDEP to patients and parents, and, to that end, we send parents to participate in the Partners Against Mortality in Epilepsy (PAME) educational conference in Washington, D.C.
We also support public policy, government regulation, and legislation initiatives that combat epilepsy and have helped to pass the Danny Stanton SUDEP Act in Illinois.
Q: How can readers help?
Readers can get involved with the foundation via various volunteer opportunities, by attending any of our events, by donating to the DDF, by becoming a Danny Did Ambassador, or by participating in a sporting event (such as a marathon) for Team Danny Did. Information on all of these possibilities are available on our website at www.dannydid.org or by emailing Mary Duffy at mduffy@dannydid.org.
For more info on Mariann or The Danny Did Foundation visit dannydid.org. And for your weekly inspiration, watch Whitney's PBS talk show on your local PBS station.