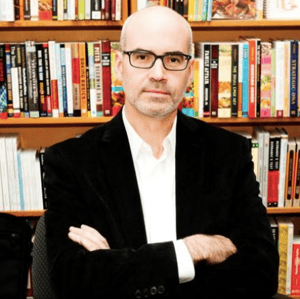 CWIP is hosting an informal dialogue with Doug Seibold, President of Agate Publishing, at EvolveHer on Wednesday, February 20 from 6:00 p.m. to 8:30 p.m.
Doug Seibold is an integral part of the Chicagoland publishing community and has a wealth of knowledge from working in trade, educational, and nonprofit publishing and media for over thirty years. He founded Agate in 2003, started Agate Development in 2005, acquired Surrey Books in 2006, and created the Agate Digital and Midway Books imprints in 2012.1
Agate's recent publishing successes include Crown: An Ode to the Fresh Cut, which was the recipient of 2018 Caldecott Honor Book, 2018 Newbery Honor Book, 2018 Coretta Scott King Illustrator Honor (Author and Illustrator), Ezra Jack Keats New Writer Award, and the Ezra Jack Keats New Illustrator Honor.
Additionally, Leonard Pitts, Jr.'s forthcoming novel The Last Thing You Surrender (February 5), has already earned a Booklist starred review as well as a positive review from Publishers Weekly. They are also excited about Iliana Regan's forthcoming memoir Burn the Place (July 16), which was excerpted in Esquire earlier this month.
Doug will be speaking on a range of topics that include how to break into the publishing industry, work your way to the top once you land your publishing job, and negotiate with a publisher as an author. There will be a significant time for Q&A, so please bring your questions.
Rates:
CWIP Professional Member: FREE
Nonmember: $25.00
CWIP Student or Senior Member: $20.00
EvolveHer members: $10