About This Event
This year LEAD is echoing our Women's History Month theme "Visionary Women: Champions of Peace & Nonviolence" honoring "women who have led efforts to end war, violence, and injustice and pioneered the use of nonviolence to change society." WBDC style!
Join us as we celebrate and honor women business owners pioneering the use of entrepreneurship to change society with ourLEADher to Visionary Showcase Highlighting LEADing Lady Entrepreneurs Changing the World One Business at a Time.
During this celebration guests will enjoy meaningful networking opportunities, refreshing drinks, delicious appetizers and attendees will take home our specially curated LEADing Lady Swag Bag full of goodies and promotions from our LEADing Lady Community! This is a Women's History Month celebration you won't want to miss!
About From Boss To LEADher:
The Women's Business Development Center presents: From Boss to LEADher Business Brainstorm Sessions – a monthly meet up for underrepresented women entrepreneurs to connect and be inspired by the success stories of other influential women leaders in the Chicagoland area, network with the most successful women business owners in our community, and connect with other LEAD members.
LEAD meets every third Tuesday of the month welcoming all women entrepreneurs of color, subject matter experts from diverse industries, successful business owners, and top Chicago leaders and advocates to join our conversations while enjoying wine and light appetizers!
Meet The Facilitator SME Lisandra Martinez!
Lisandra Martinez is the Director of the Women's Business Center.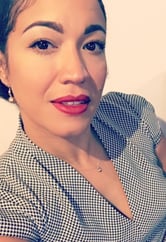 She works with entrepreneurs providing business counseling in English and Spanish in addition to coordinating the Latina Entrepreneurial Accelerated Development (LEAD) program for established Latina business owners and the Early Childhood Education Entrepreneurial program for established and aspiring childcare providers. Lisandra joined the WBDC after a successful career in business banking where she consistently earned Top Performer awards and was promoted twice in three years to Small Business Relationship Manager before transitioning to non-profit. Lisandra holds a Juris Doctor from the University of Illinois and a B.A. from George Washington University.
Up Coming LEADing Lady Meet Up Topics:
• Leadership
• Growth: Apply leadership to business growth strategies Complete Growth Wheel
• Branding
• E-Marketing
• Access To Capital: Identify Financial Strategies for Growth Set goals and implement strategies to fund and scale business Cash flow & projections
• Advocacy: Identify Opportunities for Advocacy Implement strategies as vehicles for advocacy that align with goals Resources and network to further advocacy goals
• Communication Strategies
• Networking: Identify business needs and the resources available Identify Goals and Strategies to Communicate and secure necessary 30 Second Pitch/Elevator Pitch to use in networking setting and through effective networking resources for growth identify networking strategy
• Negotiating: Preparedness to negotiate a variety of contracts and in a variety of settings relating to business Identify Goals and Strategies to Negotiate and secure necessary resources for business needs Effective negotiation strategies
• Pitching: Pitch Video Recording and PowerPoint presentation Opportunity to pitch/ask community based on needs identified
Check our calendar of events for upcoming meet ups.
Check out some photos from last month's session: