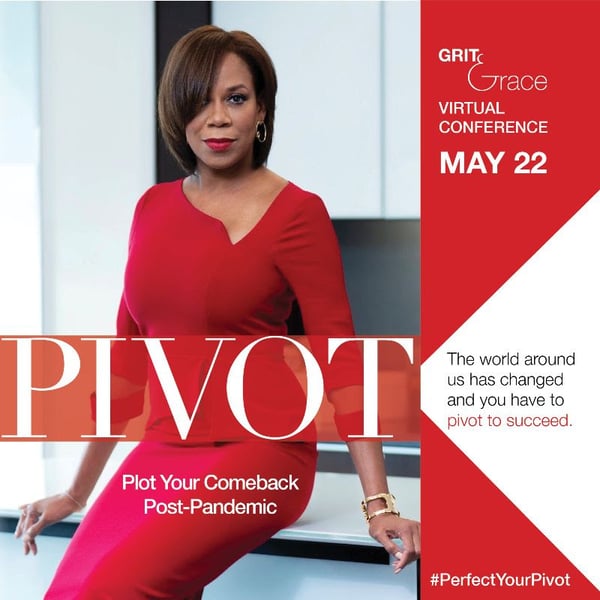 About This Event
The World Around Us has Changed and YOU have to PIVOT to succeed.
PIVOT! Is a virtual conference designed to help you rebuild and get ready for life after COVID-19. From career and entrepreneurship panels with elite coaches to soul conversations about purpose with inspired leaders, PIVOT! will give you the tools to compete in the face of this global economic reset. Join us online on Friday, May 22 to gift yourself a day of high performance coaching, conversations that connect you to your purpose, amazing door prizes, and fun vibes to kick off the weekend! #PerfectYourPIVOT -Cheryle
The Day's Schedule
9:00 - 9:15 AM
Welcome
9:15 - 10:15 AM
Decoding the Signature of Your Soul
An honest conversation about the soul's purpose and psychology behind what holds us back from pursuing our desires.
Panelists: Soulbbatical CEO Shelley Paxton, Liscensed Therapist Kalli Kerr, and Cheryle Jackson
10:15 - 10:30 AM
Music and Prize Break

10:30 - 11:30 AM
The Art of Being Your Best Self
Discover how to create a life you love and build everything else around that.
g2Coaches: Melanie Foote-Davis, Michelle Herndon, and Neha O'Rourke
11:30 - 11:45 AM
Music and Prize Break
11:45 - 12:45 PM
Perfecting Your Pivot: Desiree Rogers
From running the C-Suite and the White House to becoming a beauty business mogul, learn the art of reinvention from a career maverick who has mastered the pivot.
12:45 - 1:00 PM
Music and Prize Break
1:00 - 2:00 PM
To Pivot, Stay Put, or Start Over?
How to come out stronger after this world crisis, advance in your career and set your sight on the C-Suite.
g2Coaches: Tami Chapek and Jen Spainhour
2:00 - 2:15 PM
Music and Prize Break
2:15 - 3:15 PM
Don't Blink. Launch! Grow Your Business Post-Pandemic
Growing your business in a crisis, taking it all online, and moving your side hustle to the main stage.
g2Coaches: Rahama Wright and Paulina Panszczyk
3:15 - 3:30 PM
Music and Prize Break
3:30 - 4:00 PM
Closing Address