You Are Worthy of PR - Shout It With Me!
Do you ever find yourself watching an expert on TV and think to yourself, "That Could Be Me!"
Do you ever read an article in a magazine and see an expert quoted and think, "That Could Definitely Be Me!"
Well, it should be and it can be. It's my belief that everyone is worthy of press - I'm grateful to have the opportunity to meet you and help teach you basic fundamentals of how you can start garnering your own press coverage for your brand or your business.
Join me for a "Lunch + Learn" called #PRpose: An Intentional PR Workshop for EvolveHer where I will walk you through basic fundamentals of PR so you can leave with tangible actionable items you can start directly implementing into your business once you leave our lunch. Can't wait to meet you and help get you the coverage you deserve.
About Your Instructor - Nicole Myden:
Nicole Myden is an almost twenty-year PR industry veteran from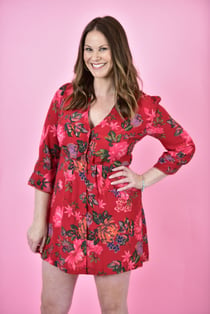 Los Angeles who relocated to Scottsdale, Arizona in 2017. Throughout her extensive public relations career in Los Angeles, Nicole worked in upper management and held executive roles at some of the top bi-coastal consumer product, lifestyle and entertainment public relations agencies in the industry. In addition to her work at these agencies, Nicole kicked off her entrepreneurial journey at 25 years old and started a boutique public relations firm out of her apartment in Brentwood, CA where she quickly made a name for herself handling publicity for brick and mortar staple locations in Los Angeles. Nicole has managed and produced PR campaigns for the likes of: American Idol Brew Dr Kombucha, FabFitFun, Fred Segal Santa Monica, Kenra Haircare, PALETA, Lori Harder, Avery, Amy Tangerine, Merrell Apparel, Colorescience and more!
Shortly after moving to Scottsdale, Nicole ignited her second entrepreneurial journey and opened The PR Concierge, LLC where she specializes in working with small businesses 1:1 to get them the attention the deserve. After a manifested working experience with Lori and Chris Harder, Nicole's business has shifted into helping modern day entrepreneurs understand they are worthy of PR. Under The PR Concierge, LLC umbrella, Nicole works 1:1 as a consultant with clients, she also launched a workshop series for purpose-driven entrepreneurs called #PRpose: An Intentional PR Workshop to help small business owners learn how to do some of their own publicity and in 2019, Nicole launched the corresponding, #PRposePodcast where she gives valuable free pitching advice to creators and entrepreneurs globally each week with niche guests including journalists and media personalities who share how best to pitch their specific outlet.
You can find out more about Nicole via her website: thePRconcierge.com or on IG @NicoleMyden
Members, please sign in to your portal to get your free ticket!