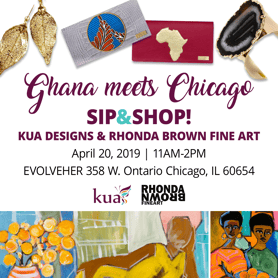 Authentic Ghanaian-made jewelry and accessories come to Chicago in a Pop-Up event!
KUA Designs debuts in Chicago with ultra chic authentic Ghanaian jewelry, bags and more to add to your personal collection just in time for summer. Beloved and worn by celebrities worldwide, do not miss this opportunity to meet KUA Designs founder Ruby Buah.
In a one-of-a-kind collaboration, Artist Rhonda K. Brown custom painted five KUA bags which will be for sale at the event.
Rhonda, a widely collected Chicago artist, will release her second series of limited edition prints for sale as well at the event

Enjoy cocktails by Tequila Honor and small bites.
About KUA Designs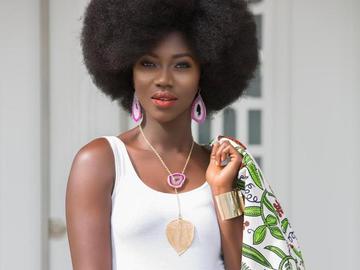 At Kua we pride ourselves on the fact that no two products are the same. From our unique stones sourced from around the world, to the real and diverse leaves we use in our gold jewelry, to our locally sourced fabric and leather which are mixed, matched and cut differently, our pieces leave you with the reminder of how truly special and unique you are. Learn more about KUA and designer, Ruby Buah, here.
About Rhonda K. Brown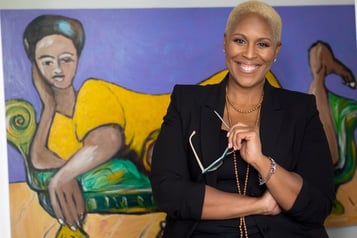 Fine art can and should be accessible for all. Rhonda K Brown Fine Art is committed to producing archival quality giclee prints in limited edition, so that folks get into the practice of collecting work they love at a price they can afford. Learn more about Rhonda and her art here.