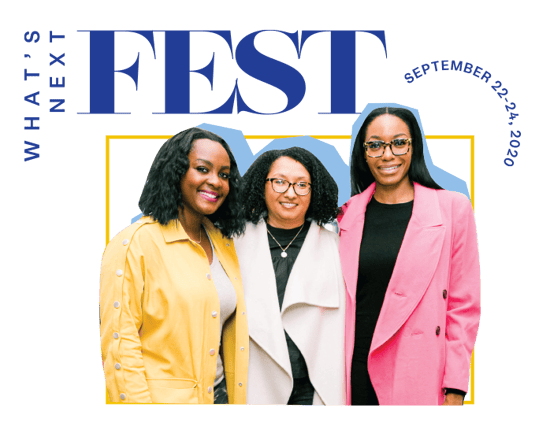 About This Event
The 2020 What's Next Fest is a three-day virtual summit brought to you by Female Founder Collective, in partnership with She's Next, Empowered by Visa, aimed to bring together founders not only from the US but from around the world. Providing educational insights, expert guidance, and tangible takeaways to attendees as they forge ahead into one of the most challenging years in history for entrepreneurs.
This event will showcase star power panels, impactful fireside chats, and interactive Q&A with the idea behind creating inspiration & lasting guidance that expands past the boundaries of one single event & one single country.
Tickets: What You'll Get
Three half-days of rich programming, with live opportunities to ask some of your biggest heroes your burning questions

$45.99 for access to all three days - live, or to watch whenever you please from the comfort of wherever you please

Free virtual workouts plus discounts to a myriad of incredible female founders

To support founders around the globe with a 40% donation to Kiva!

Since 2005, Kiva has provided $1.47 billion in microloans to 3.6 million borrowers in 76 countries. In 2019, 81% of Kiva loans were made to women. Kiva loans provide a pipeline of capital for women to start new businesses, grow existing businesses, or invest in education for themselves and their children. As part of a continuing commitment to support small and micro businesses, the Visa Foundation made a $1 million grant to Kiva earlier this year, which Visa employees helped direct to small businesses through $50 microloans on Kiva's platform.
Schedule
DAY ONE:
Women + Money: Making and Keeping It
6:00 AM - 6:20 AM PST Welcome & Opening Remarks
6:20 AM - 7:10 AM PST Owning the Room
and Owning Your Future
7:20 AM - 8:10 AM PST Women + Money -
Changing the World
8:20 AM - 9:20 AM PST Rebuild For Success:
How to Thrive in the New Normal
9:30 AM - 10:30AM PST Funding Your Business
10:40 AM - 11:40 AM PST Modeling School -
Looking at the Future of Your Business With Certainty
11:50 AM - 12:35 PM PST - Day One Closing Keynote
DAY TWO:
Building Leadership + Resilience
6:00 AM - 6:30 AM PST Exclusive Performance and Mini Class
6:40 AM - 7:40 AM PST Perfect Your Pitch
7:50 AM - 8:40 AM PST A Lesson In Leadership
8:50 AM - 9:40 AM PST Stand For Something
9:50 AM - 10:40 AM PST Companies Catalyze Change
10:50 AM - 11:50 AM PST TBD
12:00 PM - 12:45 PM PST Keynote
12:45 PM - 1:00 PM PST Closing Remarks
DAY THREE:
A More Diverse and Inclusive Future
More details coming soon!
The Mission
To arm these women with the key lessons around navigating roadblocks in order to power through the next stage of their business. Whether that be alternative and creative approaches to funding, innovative marketing tactics and insights, to digitizing their business, or looking to new payment models...by reaching global communities, What's Next Fest will equip these founders with a mindset to suit the new world that we're living in.
The Female Founder Collective and She's Next will bring together experts, celebrities, and industry leaders across disciplines and cross-borders to guide these women through the pivotal next steps in their careers and entrepreneurial journeys.
Speakers