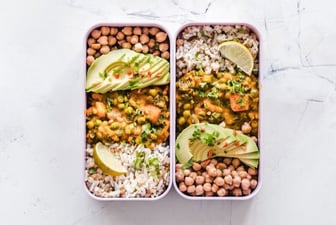 The other day a client was sharing her frustration with cooking during the week. "At the end of the day, I'm exhausted. I don't want to spend time making dinner...so I end up ordering takeout more often than not." She had a collection of recipes to try, had been dabbling with Sunday night meal prep and stocked her kitchen with an assortment of ingredients. She was overwhelmed with where to begin. So we took a step back and simplified the process together. Our goal? To eat well while spending the minimum amount of time cooking in the kitchen.
Before we get to the "how," let's start with the "what" -- what components do we need for our meals? To properly fuel our bodies and brains, we need a combination of protein, carbohydrates, and fat. This trio helps to stabilize our blood sugar levels which supports sustained energy levels -- and mood swings -- across the day. This is the reason why some of us may feel a mid-morning slump after having a carb-heavy meal, such as a bagel with a nonfat latte. A better-balanced breakfast would be more along the lines of a piece of whole-grain toast spread with cream cheese and topped with an egg or two. For meal assembly, it's key to take each of these components into consideration.
Recipe books and blogs aside, first decide on one or two different meals you'd like to test. Do you find yourself skipping lunch? Maybe start there. Trying to change all meals all at once is a sure-fire way to lose steam quickly. Here are a few guidelines to take into consideration before diving into meal assembly.
Build your base with produce.
While fresh produce is great, consider having frozen foods and canned goods on hand. Since the freezing and canning processes lock in nutrients, these can provide convenient and affordable access to nutritious foods. Double-check the nutrition facts label -- sometimes these foods can be a significant source of added calories from fat as well as high in sodium, sugar and other preservatives. Choose varieties that are "canned in water" and look for those labeled "no salt added" or "low sodium." Note that "reduced sodium" isn't necessarily sodium-free. When possible, give canned fruit and veggies a quick rinse to help remove excess sodium and sugar.
Pro tip: Add a spoonful of canned white beans to your morning smoothie for an easy fiber boost and added creaminess.
Cook carb and protein separately.
Meal assembly is just that - assembling these components to make a well-rounded meal. Choose your carb(s) for the week -- roasted sweet potato, black beans, rice and lentil mix, oatmeal -- and batch cook. Do the same with protein -- hard boil a dozen eggs, bake a lean protein of your choice or make scrambled tofu with spices.
Pro tip: Use a slow cooker to batch cook grains and pick a day of the week to roast a sheet of veggies.
Find your fats
Our taste buds love fat. Fat provides a creamy texture to our meals, helps keep us fuller for longer and boosts the absorption of fat-soluble vitamins. Crushed cashews, tahini, avocado, balsamic vinaigrette -- these can all be used to dress up your meal while providing flavor variety. Since fat is more calorie-dense relative to our protein and carbohydrate sources, a little goes a long way.
Pro tip: Make a nut-based dressing and store separately to add to meals or to use as a quick dip for raw veggies.
Here are two meal assembly ideas to consider:
Super Simple Bowl
Build the base with a mix of quality carbs and non-starchy veggies -- brown rice, quinoa, lentils, dark leafy greens, cauliflower rice or zucchini noodles.
Layer in lean protein and fiber-rich veggies. Include a mix of raw and cooked vegetables and opt for lean proteins such as hard-boiled eggs, edamame, tofu or sliced seitan.
Top with heart-healthy fats. Vary texture and flavor with nuts, tahini, low-sodium dressings or avocado. Sprinkle spices, chopped herbs or nutritional yeast for added flavor.
Pro tip: Make dips such as hummus, guacamole, and tzatziki do double duty by adding a small dollop on top of bowls for added creaminess.
Spicy Smoked Oatmeal
INGREDIENTS
1 cup raw rolled oats
2 cups water
2 cups fresh spinach
1 teaspoon smoked paprika
2 teaspoons chia seeds
2 teaspoons nutritional yeast
1 ounce of cheese or cheese alternative
INSTRUCTIONS
Add water and oats to a pot and cook on medium heat until oatmeal is almost fully cooked, about 5 - 7 minutes
Add spinach, paprika, chia and nutritional yeast to oatmeal. Cook for another 2 -3 minutes or until spinach blends well into oatmeal mixture.
Divide evenly into four containers before topping with cheese.
Pro tip: Boost protein by topping oatmeal with scrambled eggs or by using unsweetened milk as part of the liquid base. Add red pepper flakes or garam masala to vary flavor and spice level!